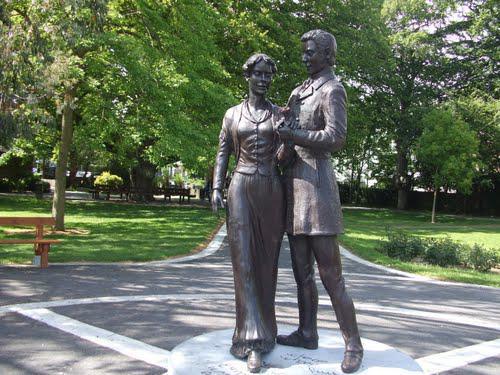 LIVING HISTORY TOUR - 17th, 18th & 19th August 2018
Visitors are taken on a journey around Tralee by a local historian, performer and specialist on all things associated with the real life story of William & Mary the 'Rose of Tralee'. This 3 hour walking tour is suitable for families and couples both young and old but still in Love! it entails short walks that cover approx 3Km.
9.30am – Join us for Rose Tea & Scones at the Brogue Inn on Rock Street for a welcome introduction & sing along to Count John McCormacks rendition to our famous song
9.45am – A short walk to the reported home of Mary O'Connor on Brogue Makers Lane
10am - Onto Nelson Street where William Pembroke Mulchinock spent his final days
10.15am – A visit to the Rose Walk, Wall and Monuments in Tralee Town Park and the history behind these
10.45am – Onto Kerry County Library to browse documents from the William & Mary story and Festival Memorbelia*
11.45am - To Kerry County Museum and a guided tour of the 60 Years of Rose Fashion Exhibition*
*Fashion & Memorbelia Exhibitions only run Festival week. Off-Season these are replaced with visits to other historical locations.
When: On Friday, Saturday & Sunday 17th, 18th & 19th of August. Off-peak bookings (outside of Festival week) can also be made via email (bookings need to be made two weeks in advance) TICKETS: €15 per person
Festival Bookings HERE
Off-Peak Bookings HERE
SPECIAL: History Walk & Lunchtime Show €35 per person Bookings HERE